This is an edition of The Atlantic Daily, a newsletter that guides you through the biggest stories of the day, helps you discover new ideas, and recommends the best in culture. Sign up for it here.
House Republicans are readying their subpoenas.
But first, here are three new stories from The Atlantic.
---
Probable Probes
After a few (er, 14) initial stumbles, House Republicans have elected a speaker and handed out committee gavels, and are now poised to deliver on the one promise to voters that they have the unchallenged power to keep: pursuing aggressive investigations of President Joe Biden, his administration, and, yes, even his family.
The flurry of inquiries that Republicans, under the auspices of Congress's oversight power, plan to launch in the coming days and weeks might well overwhelm the Biden administration, not to mention the public. None of the hearings are likely to command the attention of last year's Democratic-led January 6 committee, but they have the potential to reveal new information about how the federal government has operated over the past two years and to create political headaches for the president as he prepares to run for reelection. The investigations also carry risks for Republicans, who could lose public support if they appear to be tilting too far at conspiracy theories or pursuing overly partisan—and personal—takedowns of Biden and his son Hunter.
Here's a guide to the probes that are likely to make headlines in the months ahead.
The Southern Border
Multiple House committees are planning hearings on an issue that Republicans made, along with tackling inflation, a centerpiece of their national campaign. They've accused Biden of willfully neglecting the influx of migrants across the southern border, and although the attacks frequently devolve into immigrant-bashing, the moral and legal conundrum over how to handle asylum seekers is becoming a bigger political liability for the president. Big-city Democratic mayors such as Eric Adams of New York are complaining that they lack the funds to accommodate the migrants who wind up on their streets. A big question is whether the hearings will stay focused on policy or whether they'll turn into an impeachment drive against Alejandro Mayorkas, Biden's secretary of homeland security.
Hunter Biden
The personal and business dealings of the president's surviving son have been a Republican obsession for years, and now the party has the power to hold hearings on what Representative Elise Stefanik of New York has called "the Biden crime family." Hunter Biden is already under investigation by federal prosecutors in Delaware, and Republicans are intent on demonstrating both that he traded on access to his famous father overseas and that the president was aware of what his son was doing. The younger Biden may be in real legal jeopardy, but the GOP faces a tricky test in making the broader public care about Hunter Biden and keeping its probe focused on his alleged corruption rather than the more sordid personal activities of a troubled son.
The "Weaponization of the Federal Government"
To secure the House speakership, Kevin McCarthy agreed to conservative demands to create a select subcommittee modeled on a 1970s Senate panel that investigated abuses by the intelligence community. This one is focused on what Republicans call "the weaponization of the federal government," and it's likely to zero in on complaints from Donald Trump–aligned conservatives that the FBI and other federal law-enforcement agencies have unfairly targeted the former president and his supporters. Democrats see a more malicious motive: to undermine and thwart the many ongoing investigations involving Trump and GOP lawmakers, including the special counsel's inquiry into Trump's possession of classified documents at Mar-a-Lago.
Biden's Own Classified Documents
Republicans had barely claimed their new House majority when news broke that classified documents had been found at a think tank in Washington, D.C., where Biden had kept an office, and Biden's residence in Delaware—handing them a fresh line of inquiry against the president. GOP leaders quickly launched a congressional investigation, but they will be competing with the Justice Department, which appointed Special Counsel Robert Hur to look into the matter.
U.S.-China Relations
Democrats may see the other planned investigations as partisan exercises aimed at tarnishing the president, but not this one. A House vote last week to create a select committee on the "strategic competition between the United States and the Chinese Communist Party" earned broad bipartisan support, including from all of the top Democratic leaders. The committee is expected to focus on how the U.S. should counter China's growing economic and military strength, the threat of its possible invasion of Taiwan, and American concerns about its human-rights abuses. Stronger U.S. policy toward China has long been a bipartisan cause in Congress; former Speaker Nancy Pelosi, who voted for the bill, is a hawk who angered the Chinese government with her high-profile visit to Taiwan last year. That consensus is likely to add legitimacy to the committee's work, although some progressives are wary of its potential to generate anti-Asian rhetoric.
Related:
---
Today's News
A helicopter with senior Ukrainian officials onboard crashed in a Kyiv suburb, killing more than dozen people, including Ukraine's minister of internal affairs. The cause of the crash is still unknown.
Microsoft is planning to lay off about 10,000 employees as part of a broader effort to cut costs.
New research shows that areas of Greenland are hotter than they have been at any point in the past 1,000 years.
---
Dispatches
Explore all of our newsletters here.
---
Evening Read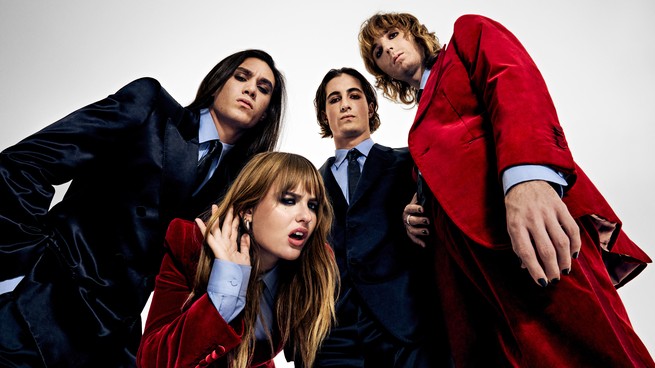 This Is the Band That's Supposedly Saving Rock and Roll?
By Spencer Kornhaber
Early December, a tchotchke shop in Brooklyn—an employee advises me about which novelty socks to pair with which comical greeting card for a friend. Then her voice, previously curious and chatty, gains a sudden seriousness. She tells me about a concert she went to the night before. The band was Italian, it was saving rock and roll, and it'd play in the city again, that night. I suddenly understood the difference between a salesperson and an evangelist. The woman gave me an order: You must go see Måneskin.

I didn't go, but I did know who Måneskin was. I first became aware of the group while attending a watch party for the 2021 Eurovision Song Competition. No one at the party could understand why a bar band in burgundy leather, playing what sounded like a Rage Against the Machine song edited for a Chevy ad, ran away with the top prize. Eurovision is known for Abba-style spectacle, silly and bright. Måneskin is all about scowling, and guitars that sound like carburetors. But clearly, the band had sparked passion somewhere—the kind of passion that, it turns out, converts listeners into proselytizers.
More From The Atlantic
---
Culture Break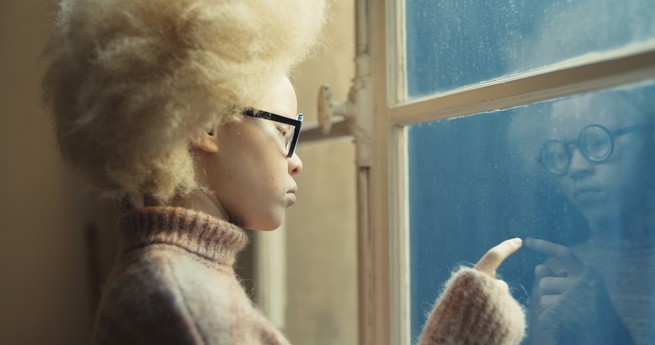 Read. "The Bug," a new poem by Daniella Toosie-Watson.
"What did you expect? For me to let the bug / just be a bug. To leave it alone / when it already planned on dying."
Watch. Hawa, streaming on Amazon Prime, accurately captures teen grief.
---
P.S.
I've been reading, and thoroughly enjoying, James Kirchick's book Secret City: The Hidden History of Gay Washington, which came out last year. The title, with its focus on a single American city, actually undersells the book's scope. More than a case study or chronology of a civil-rights movement, Secret City is a fascinating history of the past century of American politics. It reveals, or reminds, the reader of the supporting and often central role that the scandal of homosexuality—as it was too long understood—played in so many of the nation's pivotal moments, including the Red Scare of the 1940s and '50s, the Kennedy assassination, and Watergate. I had no idea, for example, that Franklin D. Roosevelt, John F. Kennedy, Lyndon B. Johnson, Richard Nixon, and Ronald Reagan were all subject at one time or another to rumors that they were gay. Kirchick documents how gay life evolved from subculture to simply culture in Washington over the course of a few decades, and how the nation's capital was both behind and ahead of the curve in the slow but profound shift in acceptance of gay men and women in public service.
— Russell
Isabel Fattal contributed to this newsletter.